Today, the Riksbank made the decision to raise interest rates once again in order to curb inflation in Sweden. This decision, in turn, caused a weakening of the Swedish krona against the Polish zloty. For companies that import goods from Sweden to Poland, this means lower import costs, as the SEKPLN exchange rate has significantly decreased. It is worth taking advantage of this opportunity to increase profits.
Increase in interest rates in Sweden by another 50 basis points.
The Swedish central bank, Riksbank, made the decision today to raise interest rates from 3.00% to 3.50%. This decision was driven by high inflation and an increase in the inflation forecast for 2023 from 5.5% to 5.9%. The bank had previously signaled its intention to continue its cycle of interest rate hikes and kept its word. Additionally, the bank indicated in its current communication that interest rates are likely to rise twice by 25 basis points (0.25%) in June and September 2023.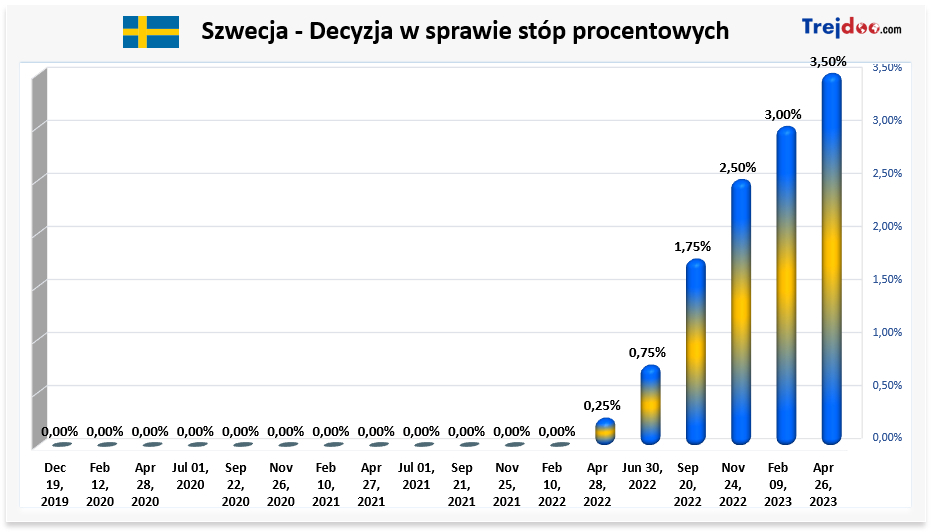 In Sweden, negative interest rates were used from 2015 to 2019, and they were then raised to zero at the end of 2019. It wasn't until April 2022 that the Swedes entered the positive interest rate zone and increased the rate by 25 basis points. Subsequently, there were further rate hikes, including a 100 basis points hike in September, and hikes in November and February.
Inflation in Sweden
Sweden, like most economies, has a problem with inflation (see chart below). The soaring inflation in Sweden is the main reason for raising interest rates. From the beginning of 2022 to January 2023, the CPI inflation has increased more than two times, reaching a level of 12.3%.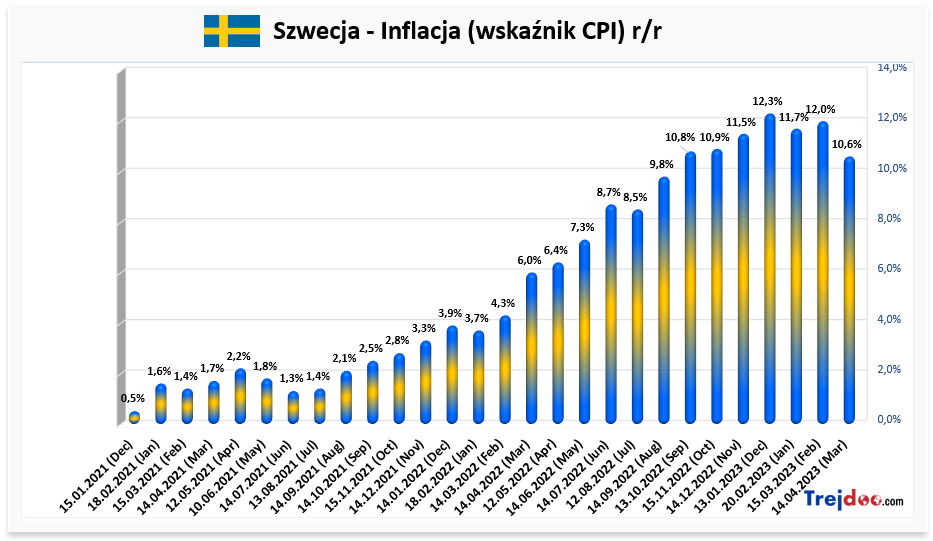 Unemployment rate in Sweden
Today we also learned the unemployment rate figures for March 2023 from Sweden, which stood at 7.7%. This is a slightly worse result than the forecast of 6.8%, but better than the previous period's figure of 8.2%.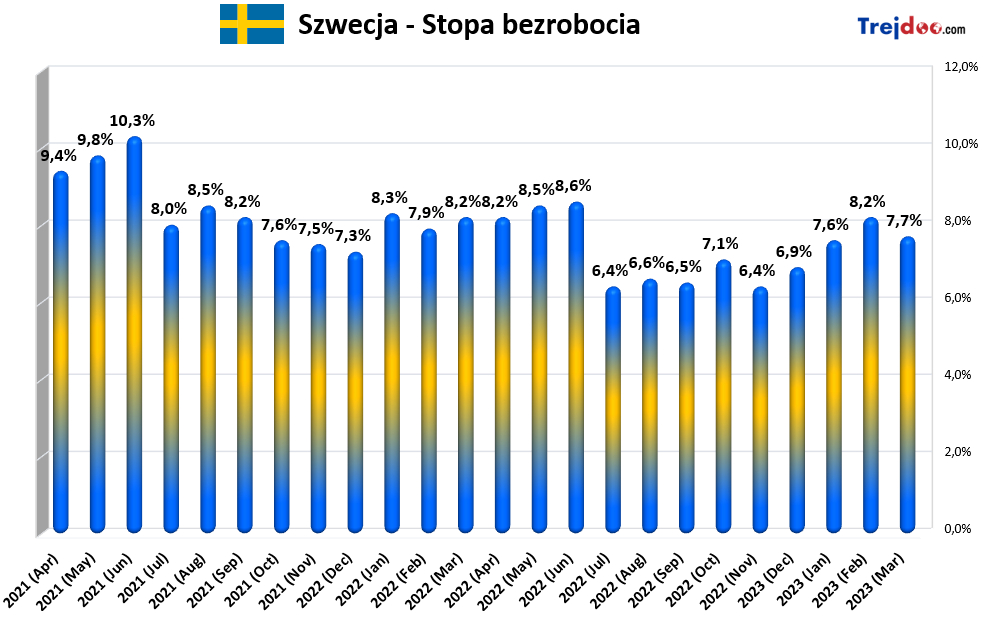 Interest rate hikes by Riksbank aim to limit inflation and maintain economic stability in the country. Of course, looking at the other side, further rate hikes may have a negative impact on the level of economic growth in Sweden, including the unemployment rate, which we see increasing on the above chart.
The drop in the SEKPLN exchange rate following the news about interest rates from Sweden.
The reaction to the news of the interest rate hike in Sweden was noticed in the currency market. Around 9:20 a.m., the Swedish krona weakened quite dynamically against the Polish zloty by about 1.4%, reaching the level of 0.4015 (SEKPLN).